Description
Catastrophic Bleed Management Course is suited towards outdoor and remote activities, as well as workers within identified high risk industries such as Agricultural, Saw mills, Forestry, Tree surgery, Farming, Game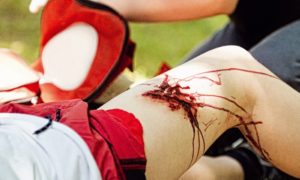 shooting, Gun clubs, Security, Construction, as well as event medics and those with first aid or first responder qualifications that would like 'bolt-on' qualifications to enhance their skill set.
It can be run in the following options:
As a 2-3 hour standalone course.
As a bolt on to a regulated course, such as EFAW or FAW..
As part of the bespoke serious incident control measures course.
Course Content:
Changes to UK Guidelines
Recognising a Catastrophic External Bleed.
Equipment use and maintenance – Pressure Bandages, Tourniquets and multiple CELOX products.
Catastrophic External Bleeding Control Measures Methods.
Casualty After Care.
Dangers of the incorrect usage of Tourniquets and Haemostatic products.
Practical training in realistic scenario tests, to suit each client's environment.
This is your opportunity
We, are running a training course to specifically deal with this trauma.
How to use the right equipment and medical disposables that will stop catastrophic bleeding.
You will be taught the very same methods, of stopping the bleeding, using haemostatic dressings and a tourniquet, used by the military in battle ….and they don't waste time!
It is a three hour course, we don't do chalk n' talk, no boring powerpoint presentations, we get stuck in, hands-on and deliver a very enjoyable session.
Tourniquet training. The different types of tourniquets, what they can do and what they can't do. When to use a tourniquet and why use a tourniquet – this can be the difference between life and death.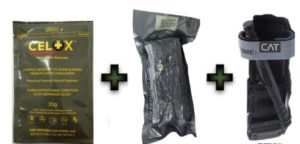 Haemostatic dressing. These should be in every first aid kit where there is a risk of severe bleeding.What is an haemostatic dressing?, what do they do that ordinary bandages don't.
Train and practice now, because you will have to get it right if someone is seriously bleeding and the instructions don't make sense!