Description
There is a legal requirement under the Health and Safety (Display Screen Equipment) Regulations 1992 to conduct a specific Display Screen Equipment (DSE Assessment) Risk Assessment for employees classed as users of DSE.
Employees meet this classification of user if they meet the following criteria:
They use DSE on a daily basis;
They use DSE for an hour or more at a time;
They could not do their job without DSE.
Prolonged use of computer workstations and display screen equipment (DSE) can lead to neck, shoulder, back or arm pain, along with stress, fatigue and temporary eyestrain.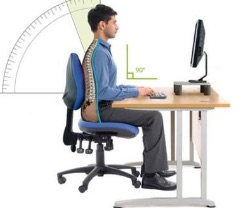 These disorders can be avoided if DSE assessments are carried out, equipment is set up correctly and good practice is applied.
DSE assessments: the business benefits
As DSE is now one of the most commonly used types of work equipment, HSE introduced The Health and Safety (Display Screen Equipment) Regulations 1992 to protect the health of those who work with DSE.
Proactively managing your organisation's DSE assessments with 'Healthy Working' and DSE Assessor training from HSL helps not only to ensure that your business meets the requirements of the regulations, but also benefits your business by:
improving the health, wellbeing and morale of employees
sustaining productivity as a result of reduced sickness absence
minimising the likelihood of compensation claims for upper limb disorders (ULD)
reducing administration costs
encouraging positive behaviour and the adoption of DSE good practice
contributing to an improved organisational safety culture
Want to know more about 'Healthy Working' and HSL's DSE Assessor training?
Email us now: jb@cambridgeriskmanagement.com
Simple workstation assessment
Designed as a risk assessment, ensures compliance with computer Health and Safety regulations
Suitable for users without any significant pain, disability or pregnant employees
Conducted at the individual's workstation, each assessment provides:
Workstation risk assessment
Seated postural analysis
Postural training and task management
Report detailing any suggested modifications
Duration: 30 – 45 minutes
Find out more about DSE assessment with 'Healthy Working' or arrange a FREE evaluation for your business by emailing jb@cambridgeriskmanagement.com now.
DSE Assessor training from Cambridge Risk Management Ltd
'Healthy Working' is complemented by HSL's Display Screen Equipment (DSE) Risk Management training.
This essential course, delivered by experienced HSL ergonomists, will provide you with an understanding of DSE risks, an approach to risk management,  and with the necessary documentation to provide your employer with risk assessments.
The course covers the key elements for office DSE risk assessment and management and provides the information and techniques required to enable those with little or no prior experience of DSE risk management to become a DSE assessor.  We also discuss risk management for less common DSE issues such as hot-desking and dual screens, and mobile technology such as tablet PCs, smartphones and laptops.