Our Catastrophic Bleed Management Course is suited towards outdoor and remote activities, as well as workers within identified high risk industries such as Agricultural, Saw mills, Forestry, Tree surgery, Farming, Game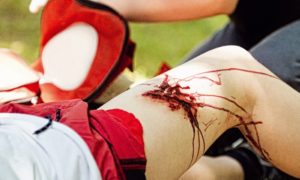 shooting, Gun clubs, Security, Construction, as well as event medics and those with first aid or first responder qualifications that would like 'bolt-on' qualifications to enhance their skill set.
It can be run in the following options:
As a 2-3 hour standalone course.
As a bolt on to a regulated course, such as EFAW or FAW..
As part of the bespoke serious incident control measures course.
Course Content:

Changes to UK Guidelines
Recognising a Catastrophic External Bleed.
Equipment use and maintenance – Pressure Bandages, Tourniquets and multiple CELOX products.
Catastrophic External Bleeding Control Measures Methods.
Casualty After Care.
Dangers of the incorrect usage of Tourniquets and Haemostatic products.
Practical training in realistic scenario tests, to suit each client's environment.